Ernest Walter Albert Wilmshurst
Died 11th January 1918
aged 32
Lived at 95 william street before the war he worked for Lloyds paper at Ridham Dock.
THIEPVAL MEMORIAL Somme, France
Alfred Whittington
Died 19th November 1918
Age 26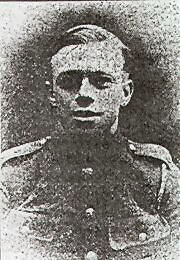 Alfred died of influenza in Moultan Punjaub India, His parents lived at 4 Albion terrace Milton Regis and his Fiancee Miss Louisa Craycraft of 5 Shortlands rd. Alfreds sister Louisa aged 22 had already died of flu earlier the same month. Alfred was a former pupil at Milton Council School.
Remembered Karachi War Memorial
William Wood
Died 26th May 1917
Buried at Sea
Remembered on the Basra Memorial Iraq