George Henry Rockliffe
Died 29th September 1918
Age 25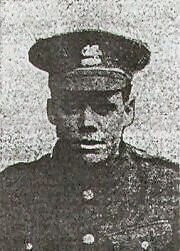 Son of William Rockliffe of 12 Princes St Sittingbourne George was struck in the stomach whilst taking rations to his comrades at the front the young soldier died instantly. Since a boy George had worked at Sittingbourne paper mill and joined the Army in 1916. He was a Widower and his death made his four year old daughter an orphan. George's brother William served with the Royal Sussex Regiment in India.
MENIN ROAD SOUTH MILITARY CEMETERY YPRES West-Vlaanderen, Belgium
Ethelbert Lancelot Rossiter
Died 9th December 1918
Age 21
Son of George and Esther of 175 Chalkwell Rd Ethelbert died of Influenza, Before the war Ethelbert was an apprentice at Sittingbourne Paper Mill. He went to France in 1916 with the Howitzer Brigade and served with his unit in the 63rd Royal Naval Division until May 1917 when he was invalided home. He served at different locations in England with the 342nd Brigade Royal Field Artillery But died at a Newcastle hospital at 12:30 am on the 9th of December.
Buried at Sittingbourne Cemetery
Henry Rossiter
Died 16th August 1917
Age 33
Husband to Daisy of 5 East Street
Remembered on the Tyne Cot Memorial
Alfred Warren Russell
Died 15th June 1917
Age 38
Alfred was killed at Bullecourt and is remembered on the Arras Memorial, Pas de Calais France, before the war Alfred worked at Sittingbourne paper mill.
ARRAS MEMORIAL Pas de Calais, France
Vivian Victor Russell
Died 10th October 1917
Age 27
Son of James & Esther and Husband to Nellie of 5 Crown Rd
Cement House Cemetery Belgium