Harry Leonard Prior
Died 3rd July 1918
Age 24
Harry was the son of James & Sarah Prior of 112 Park Rd. He died tragically in a flying accident whilst training in a new aircraft. Harry had been training with an instructor all day and made two solo flights, unfortunately on the second flight something went terribly wrong .. eyewitnesses stated the plane was flying perfectly one minute and spinning to the ground the next. The plane exploded on impact with the ground and Harry died instantly.
Harry was an old Bordenian and later studied at St Johns College Chelsea, gaining a B.sc. In the summer of 1915 he joined the sportsman's Battalion of the royal Fusiliers. The following November he went "up the line" and fought in such major actions as La Bassee, Givenchy,Vimy Ridge and in various engagements on the Somme and Ancre. In January 1917 he returned to England and trained in a cadet corps at Trinity College Oxford, he received a commission in July the same year. Later he was attached to the royal fusiliers and then the R.F.C and absorbed into the R.A.F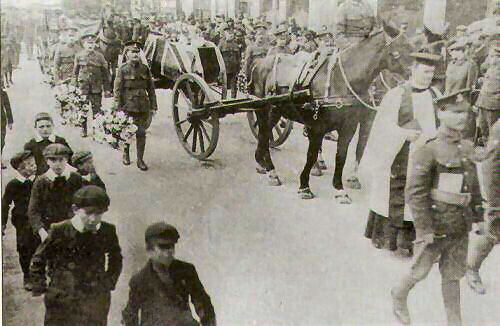 Harry is buried in Sittingbourne Cemetery, He was buried with full military honours with the band and firing party of the 3rd Wilts Regiment in attendance. The cortege was swelled by a contingent of the older members of the cadet corps of Borden Grammar School, who came to honour the memory of one of the school's distinguished "old boys". As the gun carriage passed up the main street (after leaving Holy trinity church) hundreds of people lined the streets to watch it pass and paid tribute to the memory of a gallant soldier.