Harry Marsh
Died 26 September 1915
Remembered on the Loos Memorial
Frank W Marsh
Died 31st July 1917
Age 19
Son of Mr B & Mrs M Marsh
Remembered on the Menin Gate Ypres
Edward Mayne
Died 20th August 1918
Joseph Henry Mayatt
Died 23 December 1917
Age 22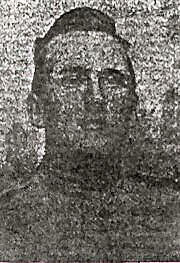 Son of Joesph & Sarah of 257 Park Rd Joseph was killed in action during the fighting for Jeruselam, before the War Joseph worked at the Paper Mills
Remembered on the Jerusalem memorial
Charles Henry Mills
Died 17 January 1918
Of 104 William Street
Charles died as a prisoner of War
Buried Le Cateau Nord France
Frank Edward Mills
Died 30 October 1914
Age 23
Son of William and Emily of 8 Burley Road
Remembered on the Menin Gate Ypres Belgium
William Mills
Died 27th August 1915
Wilfred Millen
Died 10th August 1918
Private, No 11266, 4th Battalion, Canadian Infantry, Canadian Expeditionary Force
Youngest son of Alfred Millen & Sarah Anne, of 87 High Street, Sittinbourne Kent. Born Sittinbourne afore said 26th Nov 1887; educated Kings School Rochester, was a solicitors clerk prior to sailing in April 1913 to Canada; was there employed in Home Bank, Toronto. Enlisted in Aug 1914; came to England with the first Canadian contingent; served with the Expeditionary Force in France and Flanders from Feb 1915. Was wounded near Hill 60 the following April, and on recovery was employed as clerk at Shorncliffe, and at Whitley camp; returned to France in March 1918, and died on the Ambulance Train en route to a Rouen hospital 10th Aug following, from wounds received in action near the village of Cayeux, about 12 miles South East of Amiens, on the 8th of that month.
Buried in the St.Sever cemetery, Rouen.
An Officer wrote "He proved himself a real gentleman in the face of great danger.....Set a wonderful example..... by his willingness and bravery in battle."
He married at St. Michaels Church, Sittingbourne, 1st January 1917, Beatrice, daughter of G.Eastwood, of Montreal, Canada.
Additional info courtesy of Andy Pay