Rowland John Keane
Died 6th July 1916
Age 22
Son of James & Emily of 33 Frederick St
Buried at Etaples Military Cemetery France
Arthur Harold Kemsley
Died 12th November 1918
Age 30
Arthur was taken prisoner and held at Altdamn Camp Pomerania, It is thought that he contracted Spanish Flu and because of his weaken state, died one day after peace was declared. Ten years later the body was re-interned in Germany and Buried South-Western Cemetery Brandenburg, Germany. Before the war Arthur was in the printing trade and worked at the Gazette office in Sittingbourne, he later went to work for the Northampton Chronicle.
Youngest son of George & Agnes of Cemetery Lodge Sittingbourne,Husband of Elsie of Linslade Bucks and Father to Arthur and Grace.
Post script: During WW2 Elsie,Arthur's wife knew someone who was advancing on Berlin and asked him to visit the grave which was in the Russian sector. He got permission from the Russians and was the first person to visit the cemetery after the outbreak of WW2. The cemetery superintendent said he would plant a rose on the grave. When this person told his CO, his CO said he should try and take a photograph. The Russians were not keen on anyone having cameras in their sector so the CO got hold of a small one which could be secreted under the arm. This unknown person then went back to the cemetery to get a photo which is still in the family possession.
George Kemsley
Died 3rd May 1915
Age 33
Oldest Brother of the above whose Parents lived at Cemetery Lodge Bell Rd
Killed in action during the landings at Gallipoli, at 4pm on the 3rd of May George's company received orders to retire from the position they held. This was carried out between the hours of 8pm & 9pm. Before leaving the position a search was made for wounded men. No one still alive was left behind.
Remembered at Lone Pine Memorial Turkey
William Edward Kemsley
Died 6th October 1918
Age 32
Second son Of George & Agnes, Husband of Grace died at a casualty clearing station in France as a result of wounds received in action on September 30th 1918. He had been in the Army for 2 years and had served in Italy before going to France. When living in Sittingbourne he had assisted his Father at the Cemetery. Before he joined up he had been a Gardener at Bournville park, The estate managed by the Cadbury's company He was married but leaves no children.
Buried at Doingt Communal Cemetery France
Richard ALbert Kemsley
Died 7th April 1917
Age 19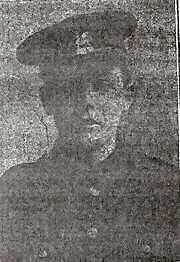 Only Son of Albert,of 98 William St , Failed to return after an attack he was reported missing but after months of "hoping against hope" his parents finally heard of his fate. Before the war Richard worked in the paper mills
Remembered on the Menin Gate Memorial Ypres Belgium
Henry George Kelsey
Died 5th January 1916
Age 37
Buried at Holy Trinity Church yard Milton Regis