Rupert George Jarrett
Died 9th August 1918
Lance-Corpl Jarrett who was 24 when he was killed, He was the second son of Mr & Mrs George Jarrett of 21 Cheapside Sittingbourne to be killed since the war began. Their other son Bert Jarrett fell in December 1917. Rupert worked at the Cotton Powder Company in Faversham before he joined the colours in October 1917. Rupert was killed during an advance against enemy lines on the 9th ..During that advance he was leading his section forward when he was shot through the hand, and it was whilst on his way back to the dressing station, that he was hit again and fell mortally wounded.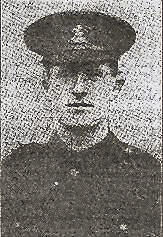 (courtesy East Kent Gazette)
His widow and little boy lived at 50 High street Milton.
Buried VILLE-SUR-ANCRE COMMUNAL CEMETERY EXTENSION Somme, France
Herbert Horace Jarrett
died 6th December 1917
Age 29
Herbert was an old boy of Holy Trinity, He was apprenticed at Meers Crofts Ltd. When war broke out he enlisted with the 5th Lancers. He saw a lot of service in Gallipoli where he was wounded. He was promoted to sargent and eventually earned a commision passing out from Trinity College Cambridge. He was posted to the North Staffordshire Regiment. On the 2nd of December 1917 whilst overseeing the repair of some trenches that had been damaged by shell fire, Herbert was shot in the back by a German sniper, the bullet damaged Herberts spin and he was taken to the military hospital at Rouen. So grave was his condition that his Mother Eliza and Fiancee travelled to France , unfortunatly they arrived at the hospital three hours after Herbert had been buried as he had died while the were travelling to see him and all they could do was to pay their respects at his grave side.
Buried at St Sever Cemetery Rouen
Frank Jarrett
died 7th July 1916
age 20
son of Thomas & Matilda of 29 Crown Rd
Thiepval Memorial
Edward John Jarvis
Died 14th November 1914
Menin Gate Ypres