Arthur Francis Smith
Died 18th May 1918
Arthur died of burns at King George Hospital London
Buried Brookwood Military Cemetery
Cpl Ernest Albert William Smith
Died 6th may 1918
Eldest son of Mr & Mrs Harry and Eliza Smith 5 Acacia Terrace London Rd Sittingbourne.
Ernest was one of the originals who was with the BEF in the retreat from Mons.He died of wounds received when hit by a shell. His wounds were discribed in a letter to his mother by the nurse who tended him when he died..Injuries were, right leg severly torn and fractured,right sholder shot through,blinded in right eye, wounds to left hand and leg.
Ernest is buried at Etaples Military Cemetery.
Ernest Smith
Died 8th October 1914
Age 27
Two days before he died, Ernest wrote the following letter to his wife at 35 New Rd
" I am quite well and safe at present. We are having it rather quiet out here.The Germans are all down on their luck. The poor beggars are half starved, and I can tell you it is getting rather cold out here just now. That makes it worse, as we don't get feather beds to lay upon. We sleep in holes dug out on the roadside in banks, and under shelter of the trees with our clothes and boots on. I have not had a good nights sleep since I left, and we don't know what it is to take our boots off. It takes nine or ten days for your letters to reach us. I like yours and the baby's photograph very much and I keep taking it out of my pocket every chance I get to have a look at our darling boy. I am looking forward to the time to nurse him again and very shortly too, as this affair can't last a month longer. It is getting nearer towards peace every day, and the sooner the better, as I am longing for a change of food.Don't be suprised if you see me eat extraordinarily when I arrive home-which I hope to soon with Gods help."
He left a widow and two small children ,before the war Ernest worked at Sittingbourne paper mill,
Remembered at La Ferte sous Jouarre Memorial Seine et Marne France
Henry John Smith
Died 12th May 1915
Caleb Smith
Died 27 April 1918
Age 29
Son of Caleb & Sarah Smith, of 1 Riga Villas Albany Rd Sittingbourne. Buried at Hagle Dump Cemetery, Ypres, Belgium.
Sydney Clarence Smith
Died 16th September 1914
Age 25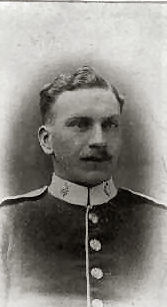 Parents lived at 90 William Street
Son of Nathaniel James and Jane [Hogwood] Smith of 90 William Street, Milton Regis, Sittingbourne. He was a Lance Corporal and his regimental number was 10762. He was a member of the 2nd Battalion, Worcestershire Regimen Sydney was born 10 August 1889, Teynham, Kent.
Remembered La Ferte-sous-Jouarre Memorial
John William Spendiff
Died 8th October 1918
Age 32
Husband of May of 22 North Street Milton Regis
Buried at Busigny Communal cemetery Extension Nord France