Thomas Huxted
Died 4th July 1918
age 36
Mrs Huxted of 60 William st, received the sad news of her husbands death in a letter from the Chaplain of a BEF Hospital somewhere in France.
"Dear Mrs Huxted, - It is with much regret that I write to inform you that your dear husband died in this hospital today at 4.45am. He was admitted only yesterday morning with Bronchial pneumonia. He was dangerously ill when he was brought in and the doctor did not hold out much hope after he saw him. We prayed together last night and I commended his soul into the hand of god".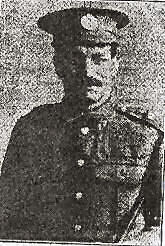 (courtesy East Kent Gazette)
A letter from his commrades to the widow reads,
"Dear Mrs Huxted- News reached our camp today, which came as a great shock to every man, that your dearly beloved husband had laid down his life while in the service of his King and country. If he was not torn by shot or shell,still truly he has served in another sphere to the best of his ability in this great cause for freedom for his native land, and his dear wife and little ones he left behind. In ordinary times the greater we feel in sympathy with any person the less able we feel to put into words those feelings, and the less satisfied we are when we have tried to express our thoughts. But in times like these we find the difficulty greater. Your husband was the most cheerful man, and was always ready to do his share of duty. He was liked and respected by all who came into contact with him. His chums will miss him very much and our company will feel the loss of a good man. It is the desire of every man of us to convey to you our deepest sympathy in this great loss that you and your little ones have sustained. May God grant to you the healing consolation which he alone can give.-Yours very sincerly, The NCO's and men of RCC RE."
He left behind a Daughter of 9 and a Son aged 5.
He is buried at Les Baraques Military Cemetery Sangatte Pas De Calais France.
William George Huxted
Died 19th November 1918
Age 21
Son of Albert and Elizabeth Huxted of 11 Murston Rd
Ernest Sydney Irvin
Died 31/10/14
Age 35
His ship was sunk by a German Sub in the straits of Dover, Husband to Eliza of 14 The Wall