Archibald Goatham
Died 2nd April 1916
Buried in Faversham cemetery
See Faversham gunpowder Memorial
Charles Henry Goatham
Died 28th May 1915
Age 27
Son of Edward and Emma Goatham of 23 The Wall Sittingbourne. He is buried at Sanctuary wood Cemetery,Zillebeke,Ypres.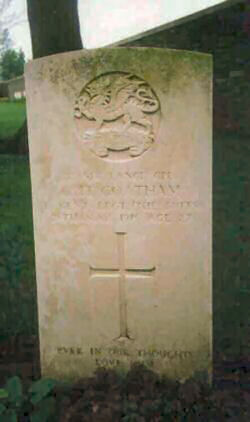 Inscription reads "Ever in our thoughts love Mum"
Charles had only just got back to the front when he was killed ...Earlier in the year he wrote a letter to his mother from his hospital bed as he had received a bullet wound in the leg;.. " it was rather rough out there, we were up to our knees in water in the trenches. I was picked to go out of the trenches to brigade HQ to bring back a company of fusiliers who were to relieve our company. On the way back from HQ I was shot by a sniper, and unable to walk I was carried back to HQ".
James Walter Goatham
Died 8th October 1916
Age 35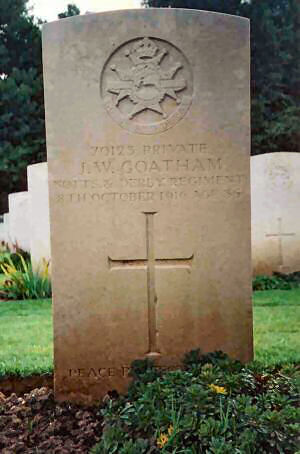 Son of Mr C & Mrs J Goatham Buried at Connaught Cemetery Somme France
Walter Goatham
Died 11th December 1915
Buried at Sea
Before the war Walter lived at 80 West St, He is remembered on the Basra Memorial Iraq
Harold George Goble
Died 8th October 1918
Frank Gough
Died 1st November 1918
Age 21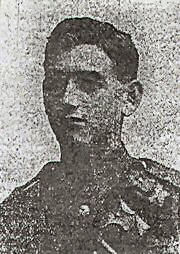 Franks parents James & Adeline ran the Gore Court Arms in Park Road Sittingbourne. Frank was their youngest son and died in hospital in Italy after a bout of pneumonia following influenza. Frank joined up early in the war and saw service in France and was wounded there. He then went to Italy and was involved in much of the fighting there.Before the War Frank worked in the paper mills.
Frank is buried at Staglieno Cemetery Italy