The Somme 2003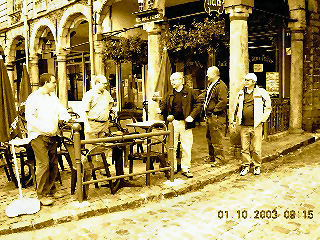 Easy Company-Arras 2003
This years trip to the western front didn't kick off until early October, this was because basically

we couldn't get ourselves organised. A last minute bout of illness meant that Tom couldn't make it and his pearls of wisdom were missed by all. That said there was a lot more room in the people carrier! And we ALL had something to eat at breakfast.
We left Blighty at 06:30 on Wednesday the 1st of October and headed for Arras for a cup of coffee and a bit to eat. Jon had prepared some sausage rolls to hold back hunger until we arrived there and we all praised Jon for his efforts even me! Once we had been fed and watered in Arras we visited the "Le Murdes Fusillés" Not strictly "on topic" as this place is the site of WW2 executions. Here the Germans executed the brave men and women of the French resistance. It is a very depressing place and we all left in sombre mood.
Le Murdes Fusillés each plaque has the name of a resistance fighter murdered by the Nazi's
We arrived in the Village of Fricourt around mid-day There is a small bar in the Village and we made good use of it. I must admit that I protested somewhat, as I wanted to get on with walking the old front line but the other less disciplined fellows over ruled me and I grudgingly joined them (although only to be sociable) for a quick half. We set off in good order towards Norfolk Cemetery, the weather was against us from the outset as it was raining quite hard. Norfolk Cemetery can be seen in the picture on the right below.. The tree standing alone on the right hand side of the road is in the cemetery grounds.
There are 400 burials in Norfolk Cemetery including an Indian.
Above inside Norfolk Cemetery and a view across the British front line of 01/07/16 towards Fricourt with Fricourt New Military Cemetery in the centre of the picture.
Chris and Ian signing the Book of Remembrance at the Devonshire Cemetery. A plaque reads:

The Devonshires Held This Trench
The Devonshires Hold It Still


1st July 1916
The 8th and 9th Devons
Suffered Very Heavy Casualties
As They Left Their Forward
Trench to Attack


Later That Day
The Survivors Buried Their Fallen
Comrades In That Same Trench
And Erected A Wooden Memorial
With The Words Which Are
Carved In The Cross Above