Harold Edward Douch
Died 14th June 1917
age 19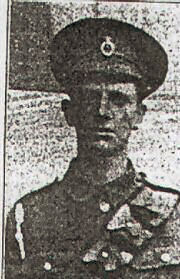 Son of Fred and Winnie Douch was killed whilst carrying out an attack on an enemy position. Harold was an old boy of Milton Council school.
Percy Albert William Downing
Died 20th April 1917
Age 22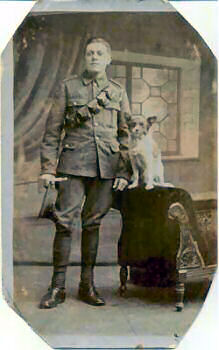 Percy known to his friends as "Paw" warned his CO that the Artillery piece was getting too hot , He was not allowed to stop firing to cool the Gun and it exploded and "Paw" was killed. This account was relayed to the family many years later by a soldier who was there. It is not the official version of his death. Percy Albert William Downing was the third child of Walter Edward Downing and Kate Downing nee Hills of 13 Milton Road. The following account was published in the East Kent Gazette shortly after he died.
"The sad news has reached Mrs G Cockell of 13 Cheapside Sittingbourne, this week, of the death in France of her younger son, Percy Downing. The Deceased's Father was the late Mr Walter Downing, his mother having married again. Percy Downing who was 22 years of age joined the Howitzer Brigade that was organized at Sittingbourne when it was training at Otford near Sevenoaks in August 1915. He went out to France with the Brigade early in 1916 and had taken part in all the actions on the Somme front, and in the present sphere of operations. About a fortnight ago , while the battery was in action a defective shell burst after it had been put in the gun, killing the deceased and another man also wounding three others. In a letter which the young mans mother has had from the battery commander Lieut G S Dixon. death was stated to be practically instantaneous. Gunner Downing was said by his officer to be smart and keen in his work, and his sad death is regretted by officers and men alike, for he was a favourite with them all. The young fellow was buried with military honours. The deceased was an old scholar of st Michael's School and his teacher was Sergeant Frank Morris of the same battery who it will be remembered was himself recently killed in France. Percy Downing was afterwards employed at the Sittingbourne Co-operative bakery at Murston, This was his only situation, and he left it voluntarily to join the army, to fight for King & Country, like so many of our young patriots have done. The photograph of the young gunner with his pet dog was taken just before he went to France. Mrs Cockell's other son Walter is a corpral in the Buffs. He has been twice wounded, the second time being in the fighting at Fleurs in October when he had the great misfortune to lose his right leg. He is now waiting to go to Roehampton to be fitted with an artificial limb. The husband of Mrs Cockell's daughter is also a soldier on service in Mesopotamia, so thatthis patriotic family can say that they have truly fought and died for their country. Much sympathy is felt for the sorrowing relatives" (sic)
Buried at Bailleul road East Cemetery St Laurent-Blangy, Pas de Calais, France
Frank John Down
Died 1st August 1917
Remembered on the Menin Gate Ypres Belgium