Sub-Lieut "Laddie" George Hambrook Dean Doubleday
Died 11th February 1918
Age 22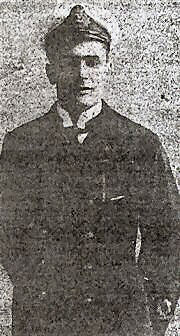 Holder of the Distinguished Service Cross
The third son of the Rev john Doubleday of "Ingleside" Sittingbourne was killed in action on the 11th feb 1918.
The communication from the Admiralty reads as follows;
"I am commanded by my lords commissioners of the Admiralty to to inform you that your son, Sub-Lieut George H D Doubleday DSC,RNR, was killed on the 11th instantly as a result of the vessel in which he was serving being torpedoed by the enemy. My Lords desire me to express to you their deep regret at receiving this intelligence and their profound sympathy in the loss which you have sustained."
Sub-Lieut Doubleday was only 22 years old when he was killed but he had already made his mark in the service he loved and earned the D.S.C. and was mentioned in despatches.
He is remembered on the Portsmouth Naval Memorial