BAPCHILD BOBBING BORDEN BREDGAR DODDINGTON IWADE MILTON REGIS NEWINGTON TEYNHAM UPCHURCH
Sittingbourne Cemetery
The Soldier
If I should die, think only this of me.
That there's some corner of a foreign field that is for ever England.
There shall be In that rich earth a richer dust concealed;
A dust whom England bore, shaped, made aware,
Gave, once, her flowers to love, her ways to roam,
A body of England's, breathing English air,
Washed by the rivers, blest by suns of home.
And think, this heart, all evil shed away,
A pulse in the eternal mind,
no less Gives somewhere back the thoughts by England given;
Her sights and sounds; dreams happy as her day;
And laughter, learnt of friends; and gentleness,
In hearts at peace, under an English heaven.
Rupert Brooke
There are many soldiers from the Great War buried in Sittingbourne Cemetery 31 to be exact. Some are local men who received wounds at the front and were brought home only to die of their wounds. Other men were from all corners of Britain & the Empire, who died either while stationed here or in the local hospitals set up during the War. The Flu epidemic also took its toll.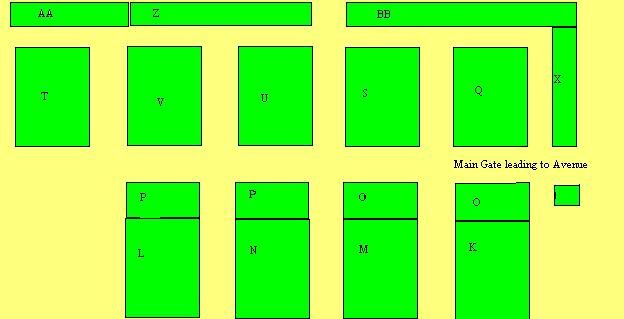 Maps of Sections.
The Chapel is at the foot of this drawing. Note I have not included the sections that are Post 1922 and sections that don't include Soldiers of the Great War.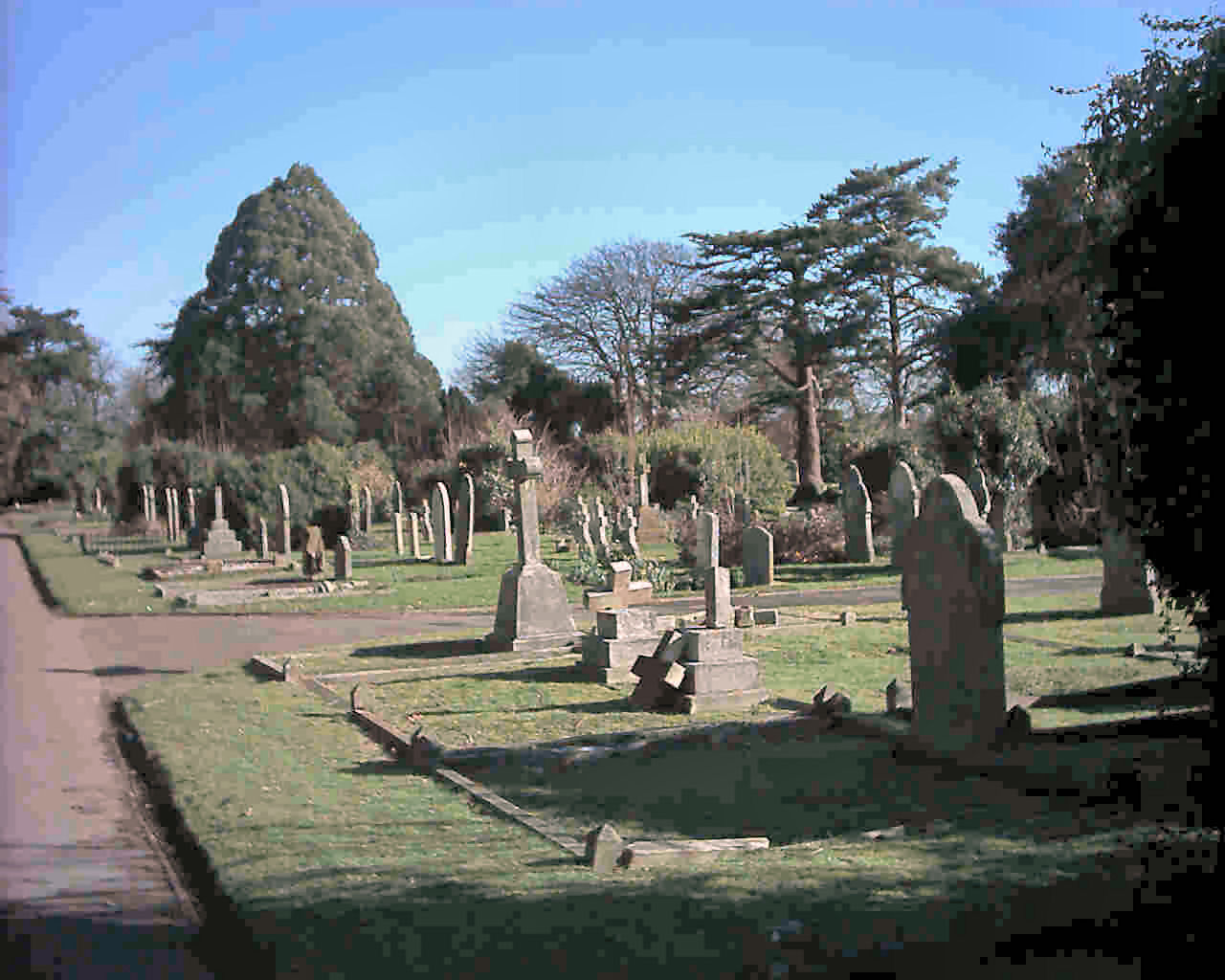 SECTION AA
PLOT AA278 William Couchman, WR/336277 Died 26/02/19 Spr Royal Engineers
PLOT AA229 Ethelbert Lancelot Rossiter, 915643 Died 09/12/18 Fitter Indian Armt Reserve Bde Royal Field Artillery Age 21
SECTION K
PLOT K27 Ernest Albert Grainger, 46162 Died 19/08/18 Pte 3rd Bn Wiltshire Regt.Born Nottingham Oxon. Residence Henley-on-Thames
PLOT K39 H George 29159 Died 10/02/18 Pte 16th Bn Royal Defence Corps Residence Harlesden
PLOT K187 E C Collins, 348268 Died 21/05/18 Dvr 2nd Reserve Bde. Canadian Field Artillery
SECTION L
PLOT ? Thomas Woollett, 441A Died 10/08/18 The parents of Thomas have remembered their son on their own grave. Thomas is buried at Heath Cemetary, Harbonnieres, Somme, France. Thomas was in the 11th Battalion Australian Infantry. Thomas had a sister, Ellen Rose Beebe, living at Chilton Cottages Sittingbourne during the War.
PLOT 96 Thomas Henry Jarrett CH/16556 Died 29/09/18 Pte Chatham Div Royal Marine Light Inf.
SECTION M
PLOT M95 Karl Hadlow TR/13/64015 Died 14/10/18 Rfn KRRC Age 18
SECTION N
PLOT?.. A G Tyler G/6007 Died 30/11/20 Pte The Buffs
SECTION O
PLOT O38 Albert Hopkins, T/201128 Died 07/01/18 Sgt 4th Reserve Bn The Buffs Born Lower Halstow Residence Sittingbourne
SECTION Q
| | |
| --- | --- |
| PLOT Q72 Reginald E Cusack, Died 15/04/15 2nd Lieut Reginald E Cusack of the 4th Royal Dublin Fusiliers, was the first officer to die and be buried locally since the war began. Because of this, his funeral attracted great interest among the local population. He had succumbed to a bout of acute Pneumonia and died aged 24. There was a large crowd at the Cemetery that sunny Saturday afternoon on the 17th April 1915, when Reginald was laid to rest. A service was held at Holy Trinity Church and was conducted by Rev C.J. Eyre Kidson. The chief mourners were his father Edward, brother and uncle Mr Vernon from Hythe. | |
PLOT Q145 Arthur Fullager, L/9757 Died 19/01/16 Pte The Buffs Residence Sittingbourne
PLOT Q120 Frances Lucas Stapley, 279613 Died 16/09/17 Pnr 345th Road Construction Coy. RE Residence Norwich
SECTION R
PLOT R67 G R Charlwood l/9581Died 09/11/18 C.S.M, The Queens.
PLOT R85 Harold Hector Walker, TR10/171090 Died 25/10/18 Pte 53rd Bn Middlesex Regt Born Sittingbourne
SECTION S
PLOT S89 H S G Millgate,T/328740 Died 27/12/19 Pte 23rd Lines of communication coy Royal Army Service Corps Residence Milton Regis
PLOT S171 Harry Leonard Prior 11126 Died 03/07/18 2nd Lt 30th Reserve Bn. Royal Fusiliers attd. 117th Sqdn RAF
PLOT S173 H J Dean, 6169 Died 27/08/16 Pte 2/9 Bn., Durham Light Infantry
SECTION T
PLOT T42 T Purcell, 6198 Died 23/01/15 Pte 5th Bn Royal Dublin Fusiliers
PLOT T43 Henry Walsh, 19118 Died 06/11/15 Pte 4th Bn Royal Dublin fusiliers Enlisted Nenagh Residence Ballycowan Co Tipperary
PLOT T114 Michael McCormack 13695 Died 08/10/20 L/Cpl 9th Bn Royal Dublin Fusiliers/trans to Labour Corps.
PLOT T166 George William Ralph Z/4410 AB Died 13/12/18 HMT Caldy Royal Naval Volunteer Reserve Residence Sittingbourne
PLOT T176 George Burden, K/27957 Died 21/07/18 R.N. HMS "General Wolfe" Stoker 1st Class
PLOT T184 Sydney John Brown, TR10/38181 Died 16/01/18 Pte RWKR.
PLOT T212 Lawrence Mears, 11126 Died 07/03/18 Sgt RFC.
PLOT T241 Frederick F Castle, 2355 Died 28/02/16 Pte Royal East Kent Yeomanry Age 19 accidentally killed
SECTION U
PLOT U77 John Long,TR10/171711Died 12/11/18 Pte A coy 53rd Bn Middlesex Regt Residence Sittingbourne
PLOT U194 Ernest Alfred Allen, 166452 Died 10/03/18 Pte 2nd Canadian Pioneer Bn
SECTION V
PLOT V81 Frederick Henry Walker, VR/3298 Died 27/07/17 Ord Smn RN Canadian Volunteer Reserve
SECTION Z
PLOT Z99 Frank Ashwood, 124218 Died 03/04/18 Air Mechanic 2nd Class
PLOT Z104 Arthur Wallace Parks, 14380 Died 03/05/18 Gnr "C" Bty 162nd Bde RFA
PLOT Z91 JTR Pettett, 3858/SD Died 20/02/19 Deck Hand RNR Trawler "Aiglon"