An Old Milton Schoolboy In The Trenches
Private T Stevens Of B Company 6th Buffs Writes to his old Headmaster:
Dear Mr Mc Isaac:-

We are still in the trenches doing our best. The part of French line we hold now is on the outskirts of a large wood, and this wood is nothing else but graves, there were a good number of bodies lying about not buried when we took over these trenches from a Warwickshire Regiment, which laid between two firing lines, but we managed to get rid of these during the night. The Germans have taken this wood four times from us since the war started. But I think it is strongly in our possession now. You can find any amount of rifles, equipment and military stuff lying about rotting away, so you can guess there are thousands of lives lost here. The trees have had all their branches and tops knocked off with shells, and there is not one standing that has not at least a hundred bullet holes in its trunk. When the sun comes out a bit strong the smell is awful and the water is not fit to wash in.
The worst thing we have to beware of are the snipers. They are dead shots. They get into old tree trunks and if they see anyone there is not much chance of them missing you. We have not had many casualties yet. Yet we had three sergeant's wounded and two killed, and four out of those five were hit by snipers. The marvellous thing about this wood is the birds still keep here and build their nests in the bits of trees. We have to do another four days here and then we get relieved, and have three days in a town for washing our clothes and to have a bath and clean up and by the time this comes it will be like having Christmas holidays. We have been out here a month now and the time passes so quickly it seems no more than a fortnight. We hope to make progress soon by the look of things. That is if the wind keeps in our favour, because you know yourself as soon as the wind changes we can expect that horrible gas, but whatever they use they will never win. So I will now close with best respects to all. All the old boys are doing well and they send their best respects to you and all.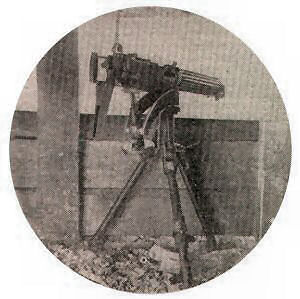 552x550 68KB
We have just finished another eight days in the firing line and are now having a bit of a rest in the reserve for eight days. We have shifted from the wood to a more open place. We did not have a bad time during our eight days, but I am sorry to say we lost five men and got a few wounded in our company. We also had a few wounded by a mine blown up in our line companies. When this happened I was away burying two of our comrades, but even then the Germans could not let us be. They put their machine gun on us and we had to lie down. We wait until dark now before we bury anyone.
The Germans think they are going to break through our lines before long, but we don't think anything of the sort, unless we are all asleep when they come, and I dont think we shall be. It is suprising how muddy the place gets when it rains. I can see how dreadful it was for our troops during the winter campaign. I hope we shall finish it before next winter. I think the artillery in this division is too good for the Germans. They keep sending shell over towards where they think they are. Well I think I have told youall the news this time, so will close with best respects to all.

PS - Lance-Corporal W. Wall and A. Beeching ask me to thank you and the boys for sending the cigarettes.