William John Earl
William John Earl was born in Newington on January 8th 1896, the eldest son of William and Eunice Elizabeth Earl (Nee Whitehead). He first enlisted in the Kings Royal Rifles at Chatham on the 31st December 1914, when still technically too young for service,giving his age as 19 years. His Number was R8611, rank - Rifleman. He served for only 16 days and was medically discharged. The reason given was angina, not bad for a man that was eventually to live to 92 years of age!

However, undaunted, he re-enlisted in the Royal Horse and Royal Field Artillery that was being raised in Brown Brothers Yard at Chalkwell Rd, Sittingbourne, on 21st January 1915.This time giving his correct age. His new number was 915537 and he was allocated to 4 H.C (How/Bde R.F.A); because he had worked for Lord Cornwallis at Linton park in the stables, and had experience with horses.
He was given the job of teaching new recruits and Officers to ride and look after horses.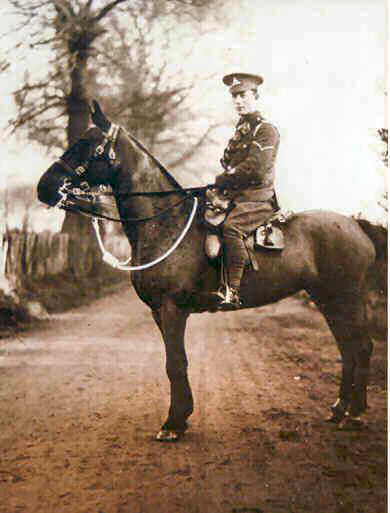 390x513 24KB
The following year was taken up with training in various places. Strode park at Herne, and Sevenoaks, where he was put into quarantine with suspected yellow fever. This eventually proved negative and he was posted to France and Belgium in 1916 for the big push.
He was blown up with his gun crew, but suffered only minor injuries. He remained deaf in one ear for the rest of his life. He had his horse shot from under him at one point, but because rations were short, he had steaks for tea that night.

Many of his compatriots were also local men, including one man, Mr Saunders, who was to become the Butcher in Bredgar and would again serve with him in the Bredgar Home Guard, during the Second World War.

William was demobbed on the 7th August 1919, by which time his family had moved to Bredgar. He had to find his way there in the middle of the night, with only vague directions as to the whereabouts of the house. His new neighbours were not amused at being knocked up by him in his efforts to find out where he was.