George William Brewer
Died 29th July 1916
Twenty nine year old George worked at Ridham dock before he joined up in 1915. His mother of 13 Station Street, Sittingbourne, learnt of his death whilst nursing her other son Benjamin, who was suffering from shrapnel wounds. Her youngest son Samuel had signed up under age and she was taking steps to get him sent home.
Remembered on the Thiepval Memorial
Frank Osborne Broster
Died 30th October 1917
Age 23
Mr James Broster of Short Street Sittingbourne, recieved the news of their youngest son's death in the following letter from Lieut Griffith Williams, 135th Battery RFA.
" I have such bad news to tell you, and it is terribly difficult for me to sit down and write it.
Your dear son was killed this morning by a stray shell. It is difficult to find words to allay your grief. He was such a splendid fellow and no amount of danger, bad weather or hardships could damp his cheerfulness and keeness. It will be almost impossible to replace such a man. Please accept my greatest sympathy in your great loss".

Frank went out to France with the B.E.F in 1914. He fought in the Retreat fron Mons, The Marne, Aisne, Ypres and on the Somme & Ancre. He fought through all that, only to be killed by a stray shell. Frank belonged to a family of soldiers, his father James, a Dover man, served for twelve years in the Royal Scots Fusiliers and on leaving the Army went to work in Sittingbourne paper mill and became a well known member of the Mill band. When the War started at the age of 56, he joined the Buffs and did two years home service. His oldest son L/cpl Sid Broster, was in the 4th Buffs attached to the Royal Engineers. He has been wounded 4 times. Another son Charles was a bandsman in the Warwicks.
Buried at Cement House Cemetery, Langemark, Belgium
Sydney Broughton
Died 24th June 1917
Age 45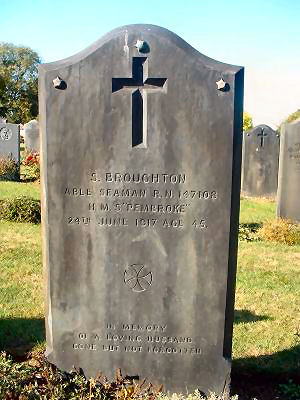 H.M.S. Pembroke, Buried woodlands Cemetery Gillingham Husband of Edith Mary Broughton, of 2, Westbourne St., Sittingbourne.
David Brunger
Died 7th February 1717
Buried Amara Cemetery Iraq
Edward Thomas Brown
Died 3rd August 1917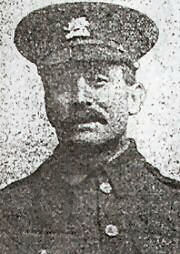 397x560 65KB
Edward's wife recieved the following letter from a hospital matron 3 days after being told he had been seriously wounded.
My dear Mrs Brown,

I am very sad to write you that Pte. Brown passed away this morning at nine o'clock. He had been unconscious for the past twenty-four hours, and did not realise his condition. My heart aches to send you this sad message, and I hope you feel our sympathy. He will be buried tommorrow, having a military funeral. I am enclosing a lock of his hair and his personal effects will be sent to you by registered mail of the Goverment Department. I assure you we did all we could to save him.

In deepest sympathy

Grace E Allison
Buried at St Sever Cemetery Extension Rouen France
Percival Brown
Died 22nd August 1918
Age 34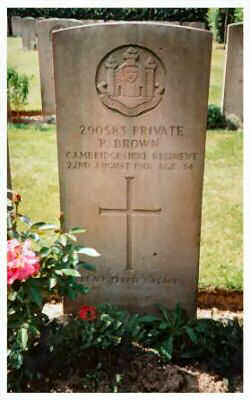 1060x1688 208KB
Son of Harry of Barrow Green, Teynham and Husband of Emily of 35 Cowper Rd
Buried at Meaulte Military Cemetery, Somme, France
William (Robert) Brown
Died 23rd February 1917
Son of Ann Brown of 19 Gibson St
Sydney John Brown
Died 16th January 1918
Age 20
Son of Sydney and Susan of Sittingbourne
Buried in Sittingbourne Cemetery
George Burden
Died 21st July 1918
Buried in Sittingbourne Cemetery
Edward Burley
Died 30th July 1918
George Leslie Butcher
Died 12th September 1918
Age 18
Son of George and Edith of 5 Milton Rd.
Remembered Vis-en-Artois Memorial
Ferrell Stead Herbert Burton
Died 26 September 1915
Remembered on the Loos Memorial
Walter Butler
Died 28th March 1916
Dranoutre military Cemetery Belgium
Stanley Mack Butler
Died 2nd December 1917
Remembered on the Cambrai Memorial