1116x1722 84KB

Bertie Attwater

Died 26th August 1918

Age 30

Bertie is buried at caterpillar Valley Cemetery, Longueval Somme, France.


255x405 20KB
Bertie had joined the Army in 1910. Originally he was with the R.A.M.C but 6 months later joined the South Wales Borderers and served 2 years in South Africa. Bertie was in China when war broke out and he took part in the capture of Kiouchau, where British and Japanese forces were instrunmental in wresting the stronghold from German forces. After this Bertie was sent to the Dardanelles and he was involved in fierce fighting at the landing where he was wounded. He was sent back to England and while in Hospital, met the King & Queen, who were visiting the establishment. After several months in hospital, he went to France but had an attack of malaria, so had to go back to England to recover. On his recovery in October 1917, returned to France. In May of that year Bertie had married a young woman in Liverpool and it was from his young bride, that his parents heard the terrible news that Bertie had been killed in action. Bertie's sister Rosina Jane Brunger also served in the W.A.A.C's

His parents Ernest Mark & Eliza Ann Attwater, lived at 52 Murston Rd,Sittingbourne.
Ernest Attwater
Died 29th September 1917
Age 21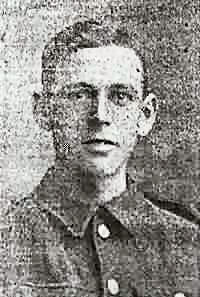 534x792 132KB
Brother of Bertie, Ernest was killed the year before his brother, in an aerial attack. A German plane swooped down over the British lines and dropped four bombs, which killed and wounded many, besides Ernest. Ernest was engaged to a Dora Higgins
He is buried at Nine elms Cemetery Pomeringhe Belgium.